Khuyến mãi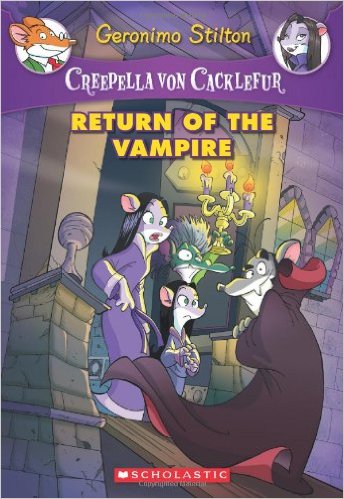 tiki.vn
Creepella Von Cacklefur 4 Return Of The Vampire - Paperback
96.000 ₫
192.000 ₫
Thông tin sản phẩm
Introducing the latest addition to the Creepella Von Cacklefur series - "Return Of The Vampire"! Join our fur-raising heroine as she embarks on yet another thrilling adventure, filled with mysterious friends, spooky creatures, and spine-tingling action.
In this fourth installment, Creepella receives an unexpected visit from a vampire friend of her grandfather Frankenstein. The vampire needs the von Cacklefur family's help to rid his ancient castle of troublesome monsters and ghosts before he is forced to abandon his ancestral home. As always, Creepella and her family are ready to face any challenge that comes their way, and with the help of their friends, they set out on a hair-raising mission to save their vampire friend and his castle.
What makes "Return Of The Vampire" a must-read for kids and adults alike? First and foremost, it's the perfect combination of humor, adventure, and mystery that the Creepella Von Cacklefur series is known for. From the very first page, readers will be captivated by the vivid descriptions of the creepy, yet enchanting world of Cacklefur Castle. The characters are just as engaging, with their unique personalities and quirks that make them lovable and relatable.
But what sets "Return Of The Vampire" apart from its predecessors is the level of suspense and action packed within its pages. Readers will feel like they're on a roller coaster as they follow Creepella and her friends on their quest to save the vampire's castle from the eerie creatures lurking within. It's a thrill ride that will keep readers turning pages until the very end.
So if you're looking for a book that's full of adventure, mystery, and above all, fun, then "Creepella Von Cacklefur 4 Return Of The Vampire" is the perfect choice. It's a must-have addition to any bookshelf, and one that will be enjoyed by readers of all ages. Don't miss out on this hair-raising adventure - get your copy today!
#CreepellaVonCacklefur4 #ReturnOfTheVampire #FurRaisingAdventure #MonstersAndGhosts #FamilyAndFriends #Paperback #ChildrensBooks #VampireStory #MysteriousOldFriend #GrandpaFrankenstein #CastleInfestation #Ghostbusters #BookWorms #SpookyReads #HorrorFiction #KidsLit #MustRead #YoungReaders #CreepyCrawlyFun