Khuyến mãi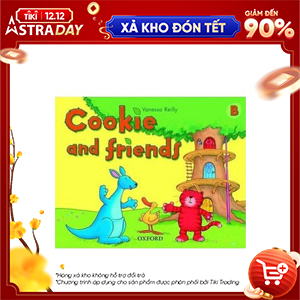 tiki.vn
Cookie and Friends A Classbook
30.001 ₫
254.000 ₫
Thông tin sản phẩm
Cookie and Friends A Classbook is a must-have resource for any young learner looking to improve their English language skills. Designed for children between the ages of three and six, this three-level story-based course offers a rich package of resources that are both practical and fun.
With Cookie and Friends A Classbook, young learners will be introduced to a world of exciting characters and imaginative stories, all designed to help them develop their English language skills in a natural and engaging way. Each level of the course is carefully structured to provide a solid foundation in key language areas, while also encouraging children to explore their creativity and develop their own unique voice.
What sets Cookie and Friends A Classbook apart from other language learning resources is its focus on practical, hands-on learning experiences. Children will have the opportunity to engage in a variety of activities, from role-playing and storytelling to singing and dancing, all designed to reinforce key language concepts and help children feel confident and empowered.
Furthermore, the rich package of resources offered with Cookie and Friends A Classbook means that teachers and parents will have everything they need to support their young learners. The Teacher's Book includes detailed lesson plans, activity sheets, and additional resources to help teachers optimize their lessons and ensure that each child gets the attention and support they need. Meanwhile, the accompanying multimedia resources, including videos, songs, and interactive activities, make learning fun and engaging for young learners.
It's important to note that our "Hàng thanh lý không hỗ trợ đổi trả theo nhu cầu hoặc do lỗi ngoại quan. Chỉ hỗ trợ hoàn tiền với trường hợp sản phẩm lỗi không sử dụng được. Quý khách vui lòng cân nhắc kỹ trước khi mua hàng" policy applies to Cookie and Friends A Classbook. However, we're confident that once you see the quality of our resources and the transformative impact they can have on young learners, you won't want to return them!
In conclusion, Cookie and Friends A Classbook is an essential resource for anyone looking to support the English language learning journey of young children. With a focus on practical, engaging experiences and a wealth of resources to support teachers and parents, it's the perfect tool for building strong foundations and empowering young learners to achieve their full potential.
#CookieandFriendsAClassbook