Khuyến mãi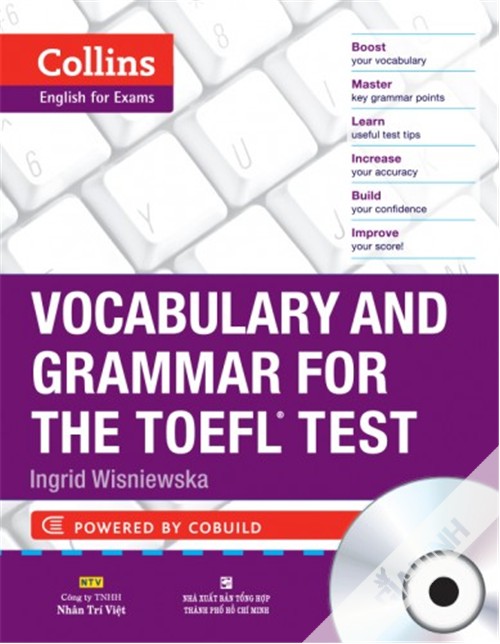 tiki.vn
Collins Vocabulary And Grammar For The TOEFL Test Kèm CD
190.500 ₫
240.000 ₫
Thông tin sản phẩm
Have you been looking for a way to enhance your English language skills so that you can excel on the TOEFL test? Look no further than the Collins Vocabulary and Grammar for the TOEFL Test book and CD set.
This three book series is specifically designed to help learners prepare for the Test of English as a Foreign Language, used by over 7,500 institutions in 130 countries. Whether you're a student looking to study abroad or an international professional seeking to improve your language proficiency, this comprehensive series is the perfect tool to improve your skills and confidence on the TOEFL test.
The set focuses on the integrated-skill aspect of the TOEFL test, where learners are required to produce responses based on mixed input. The book and CD set tackles this challenge by providing learners with a variety of practical exercises and activities that help to develop key language skills such as listening, speaking, reading, and writing.
The materials in the book and CD set cover all aspects of the TOEFL test, including grammar, vocabulary, and reading comprehension. Each grammar point and vocabulary word is clearly explained with relevant examples, and there are plenty of practice exercises to help you reinforce your learning.
The set also includes a CD with audio materials that learners can use to improve their listening and speaking skills, as well as reinforce their understanding of important grammar and vocabulary concepts. The sample tests on the CD are especially helpful in providing learners with a realistic sense of what to expect on test day.
Overall, the Collins Vocabulary and Grammar for the TOEFL Test book and CD set is an essential tool for anyone looking to improve their English proficiency and succeed on the TOEFL test. With its practical exercises, clear explanations, and audio materials, this set will give you the confidence and skills you need to excel on the test and exceed your goals.
#TOEFLprep #CollinsSkills #VocabularyAndGrammar #IntegratedSkills #CDIncluded #LanguageAbility #TestPreparation #GlobalLearners #LanguageTest